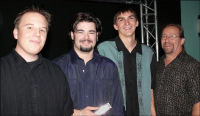 Perhaps the late Paul Delay said it best about Ty Curtis, "He plays it like a young man should -- straight ahead and from the heart."
As a boy, Ty Curtis was known to stand in the cold outside local blues clubs just to hear his favorite musicians -- Chris Cain, Duke Robillard, Curtis Salgado, Tommy Castro. Now, just over a year into his own band's existence, The Ty Curtis Band is already packing blues-lovers in and keeping them on their feet. At 20, he has a young man's attitude, but an old man's soul. But don't think of him -- or his band-- as anything less than mature.
The band hit the Northwest blues scene in 2006. Starting with a standing room only show at Lefty's Pizzeria in Salem on Father's Day, the band continued with shows at Homer Davenport Days, Roadhouse 101 in Lincoln City, KBOO radio in Portland and return performances at Lefty's. In September they opened for Curtis Salgado and October for Paul DeLay.
In July, 2007, the band made its debut at the Waterfront Blues Festival in Portland. They also performed at the Corvallis DaVinci Days, the Silverton Art Fair and the Oregon State Fair.
The Ty Curtis Band's first CD Stubborn Mind has been picked up for distribution by Pacificblues.com.
Band Members:
Ty Curtis -- guitar, vocals, songwriting
Davis Brown -- drums
Jim Smith -- bass
Hank Schreve -- harmonica
For more information, visit www.myspace.com/thetycurtisband