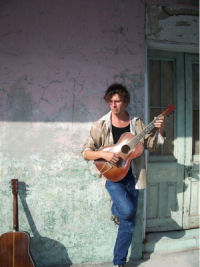 Paul Sprawl has a unique, creative and soulful approach to the guitar, to songwriting, and to finding an audience for his work. Who else grew a national audience by traveling around in a van going to open mics? Who else combines percussive guitar techniques with bottleneck, tapping, harmonica on a rack, and songs of the downtrodden and forgotten? Who else with a truckstop guide next to the driver's seat of his van has a college arts education and has put out six cds in seven years? Listen for yourself. With performances in 35 states in the USA and shows in Canada and Germany, Paul Sprawl toured six to eight months a year from 2000-2005, and he's back at it again. Since his 1999 cd, Blue Suitcase, produced by Lee Townsend (Bill Frisell, Kelly Joe Phelps) for the German label, Intuition, he's put out five more full-length cds on his own label, Vagabond Music.
Sprawl has developed a thing that everyone seems to agree is his own and unique. It involves poetry, storytelling, a baritone singing voice, and some unusual guitar techniques that you've just got to check out for yourself.
More art than entertainment; this is creative work with life commitment - with influences like... Skip James, John Cage, Joni Mitchell, Harry Partch, Michael Hedges, Chris Whitley, Ed Harkins, Jean-Luc Godard, Jim Jarmusch, William Gibson, Noam Chomsky, David Byrne, Laura Nyro, Pepe and Celin Romero, Charlie Haden, his brother's bands, Nature, travels, jazz & rock bands, poets, and lots of strangers who wanted to talk.
"Paul has taken the blues and used them in a unique way to tell his own songs and stories. Slide guitar, lightning finger work with both hands up the neck, percussion on the body of the guitar, and a mellifluous voice that slides and bends his melodies the way his slide guitar finds the notes on his frets. He has three albums out - we were sold on him last year when he sent us a copy of Lucky Hand - a self-produced album with just Paul and his guitar, and no overdubs or fancy studio tricks."
-Al Boyce (Old Kitchen Rug and Brewery House Concerts Promoter - Minneapolis, MN)
For more information, visit www.paulsprawl.com