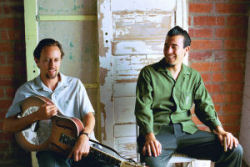 Nathan James and Ben Hernandez were first place winners of the 2007 International Blues Challenge in Memphis, TN.
Ben Hernandez (harmonica, vocals, kazoo, jug, washtub bass, spoons) is a naturally gifted vocalist/ harmonica player specializing in the pre-war, acoustic blues styles. He is committed to preserving an almost lost musical genre while still stamping his own distinct mark.
Nathan James (guitar, vocals, foot percussion, harmonica) has become a well recognized blues guitarist in Southern California, as the guitarist for the internationally known James Harman Band. During his last five or so years with the band, James has honed his chops with seasoned veteran Harman, touring and recording.
On 'Make a Change Sometime' the first official duo album by Nathan James & Ben Hernandez, these two young & talented artists bring forward a fresh and knowledgable showcase of an American roots music known as country blues. Within the 16 cuts of both traditional and original songs, they cover all the styles including: delta, piedmont, gospel, string band, and jug band country blues.
With various tools of the trade; during a live show an audience may not know what to expect. During one song, James may be laying down a hypnotic delta rhythm on a National resonator slide guitar, stomping out his foot in time on his percussion board; while Hernandez is singing like a Sunday morning baptist preacher, and chugging a trian whistle sound on his harmonica. A next song could be James creating a ragtime jump on guitar as Hernandez coaxes a jazzy melody on the Kazoo, or bassline on the jug or the washtub bass; as the two sing a timeless song in harmony. Meanwhile all of this never failing to grab anyones attention, and forces smiles, applause, and even dancing feet to all lucky enough to experience. Night after night, this is how Nathan James & Ben Hernandez carve out a living for themselves.
For more information, visit www.nathandjames.com and http://www.nateandben.com/index.cfm