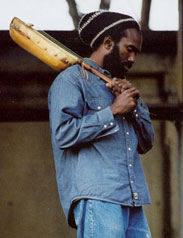 Corey Harris has led the life of a musical explorer, traveling and listening all over the world. He's performed at many of the world's most prestigious venues, including the Montreux Jazz Festival, London's Royal Albert Hall, New York's Lincoln Center, Washington, D.C.'s Kennedy Center, Nashville's Ryman Auditorium and Tennessee's Bonnaroo Music and Arts Festival. As the star of Martin Scorsese's segment of the PBS series, The Blues, Harris traveled to Mali to play with Ali Farka Toure, a voyage he repeated for his album of field recordings called Mississippi to Mali, in which he explored the connections between African music and the blues.
Born in Denver, Colorado in 1969, Harris made two extended trips to Cameroon after graduating from college. He came home from Africa determined to make his way as a blues musician, while he taught French at a rural Louisiana middle school. "Blues was what I understood deepest in myself," says Corey, "It wasn't a stretch for me to understand what was going on, even though it took me a while to be able to play it."
Harris has shared the stage with BB King, Tracy Chapman, Natalie Merchant, the Wailers, Burning Spear, The Dave Matthews Band, and Ben Harper, among many others. In addition to extensive touring, Corey has composed music for HBO's acclaimed series, "The Corner", as well as for the PBS documentary, "The Rise and Fall of Jim Crow."
A musician since childhood, Harris began his career as a traditional blues singer and guitarist. From these simple beginnings he has built a worldwide following among musicians and fans alike. Rolling Stone gave his rocking 2002 release, Downhome Sophisticate four stars.
Acclaimed film director Martin Scorcese tapped Harris to star in and narrate the documentary film, "Feel Like Going Home." Filmed in Mississippi and Mali, West Africa, it tells the story of the blues from African origins, through slavery to todays blues and roots music. Broadcast in America on the PBS network and released in theaters internationally, the film features Harris' collaborations with a number of American and Malian musicians, most notably Taj Mahal, Ali Farka Toure, and Kora master Toumani Diabate. From this experience came the critically acclaimed album, Mississippi to Mali (Rounder), which was recorded in both locations and features many of the same artists appearing in the film.
In 2005, Harris released Daily Bread, an album that synthesized various shades and dimensions of African and African-America music - blues, reggae, ska and even rap.
Harris joined the Telarc label in the summer of 2007 with the release of Zion Crossroads, an album that reflects some of hiss recent travels to Ethiopia – bringing the reggae sensibilities of that culture to the forefront of his music.
For more information, visit www.myspace.com/coreyharrismusic