Little Charlie & the Nightcats
Main events at
Historic Ashland Armory
208 Oak St., Ashland
Saturday, January 14, 2006
Doors open for dinner 6PM
Music begins 6:30PM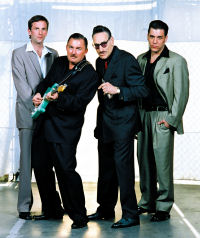 One of the hardest-working barroom blues bands on the West Coast, Little Charlie & the Nightcats started out in the mid-'70s, began recording around a decade later, and just kept on going strong. The two constants over the Nightcats' long history were co-founders Little Charlie Baty (guitar) and Rick Estrin (harmonica, lead vocals). Baty's biting licks were the perfect complement to Estrin's devil-may-care swagger and wryly humorous, storytelling lyrics, and that combo was enough to maintain a decades-long career as a popular live act all across the blues circuit. The band's music relies chiefly on electric urban blues of the Chicago variety, but mixes in bits of many other compatible styles, including early rock & roll, soul, surf, swing, jump blues, and Western swing.
Charlie Baty was attending U.C.-Berkeley and studying mathematics when he formed Little Charlie & the Nightcats with Rick Estrin in 1976. Initially, both of them were harmonica players and singers, but Baty happened to play guitar as well, and he made the switch permanently when Estrin established himself as the stronger of the two. Joined by bassist Jay Paterson and drummer Dobie Strange, the band moved to Sacramento and made a living playing the local blues clubs. Eventually, they sent a demo tape to the prominent blues label Alligator, and despite the unsolicited nature of their submission, Alligator immediately signed them after catching their live act. After just over a decade in existence, Little Charlie & the Nightcats issued their debut album, All The Way Crazy, in 1987. The record helped establish them on the blues festival and club circuits, and they began touring the country extensively, playing a number of international venues as well. Follow-ups Disturbing The Peace (1988) and The Big Break (1989) consolidated their status, and the gigs poured in.
In 1990, the group had their first personnel change; Peterson departed and was replaced by Brad Lee Sexton, who debuted on the 1991 concert set Captured Live. 1993's Night Vision featured "My Next Ex-Wife," a witty blues-rocker that won Estrin a W.C. Handy Award for Song of the Year, highlighting his steadily growing reputation for songwriting prowess. Estrin's material was soon being covered by artists like Koko Taylor and Robert Cray. Sexton left in 1994, and Ronnie James Weber joined up as the band's third bassist, debuting the following year on Straight Up. Original drummer Dobie Strange left in 1996 after 20 years with the group, and his spot was taken by June Core. Core debuted on 1998's Shadow of the Blues, and that year the group also backed John Hammond, Jr. on his album Long As I Have You. Little Charlie & the Nightcats returned in 2002 with a new album, That's Big, and a new rhythm section, bassist Frankie Randall and drummer Joey Ventittelli. Nine Lives, released in 2005, saw yet another rhythm section, this time with J. Hansen on drums and Lorenzo Farrell on bass.