David "Honeyboy" Edwards
with Michael Frank
Main events at
Historic Ashland Armory
208 Oak St., Ashland
Friday, January 13, 2006
Doors open 6PM for dinner
Show starts 7PM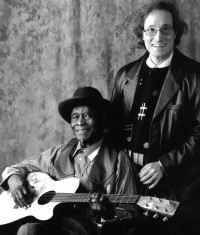 David "Honeyboy" Edwards was born June 28, 1915 in Shaw, Mississippi. He is one of the last living links to Robert Johnson, and one of the last original acoustic Delta blues players. Honeyboy is a living legend, and his story is truly part of history. He is the real deal.
Edwards left his hometown of Shaw and the sharecropper's life as a teenager, when he met Delta bluesman Big Joe Williams. Following Big Joe, he hopped the freight trains of blues lore -- the Pea Vine, the Southern, and the Yellow Dog. He learned to play on dusty street corners in small southern towns and the good-timing houses of New Orleans.
Edwards went off on his own, wandering throughout the South as an itinerant musician and gambler. During the mid-1930s he worked both as a solo player and with Robert Johnson, Tommy Johnson, and Tommy McClellan. With members of the Memphis Jug Band, he played in Handy Park on Memphis's Beale Street. He befriended Big Walter Horton and traveled with him to small towns in Tennessee, Mississippi, and Arkansas.
In 1942 Library of Congress archivist and folklorist Alan Lomax caught up with the fast-moving, itinerant Honeyboy in Clarksdale, Mississippi and recorded 15 of his stories and songs for the Library of Congress collection.
In the late forties, Honeyboy brought a teenaged Little Walter to Chicago and together they played at that city's famous Maxwell Street Market. Eventually the blues led Honeyboy to Texas, to Deep Ellum in Dallas, and to Houston, where he took on a band and a new sound, and recorded as "Mr. Honey" for the Artist Recording Company, accompanied by pianist Thunder Smith. He recorded again for Sam Phillips in Memphis, and came to Chicago when Chess Records called. This pioneer label of the electric blues recorded Honeyboy in 1953. His song, "Drop Down Mama," became a minor classic of that period.
In the fifties, Honeyboy married and began to raise a family. He decided to make Chicago his home. He played in south side taverns and built a reputation as one of the city's finest slide guitarists. During the sixties, his recording career accelerated as independent labels Milestone, Adelphi, and Blue Horizon put his songs on vinyl. He appeared as a guest artist on two albums by the original Fleetwood Mac.
In 1972, Honeyboy met Michael Frank, and the two soon became fast friends. In 1976, they hit the North Side Blues scene as The Honeyboy Edwards Blues Band, as well as performing as a duo on occasion. Michael founded Earwig Records, and in 1979 Honeyboy and his friends Sunnyland Slim, Kansas City Red, Floyd Jones, and Big Walter Horton recorded "Old Friends".
Honeyboy's early Library of Congress performances and more recent recordings were combined on "Delta Bluesman", released by Earwig in 1992.
Honeyboy has written several blues hits, including "Long Tall Woman Blues", "Sweet Home Chicago" and "Just Like Jesse James".
Frequently sought out by film-makers, historians, and writers for his recollections of earlier days and important musicians, Honeyboy has been a featured musician and narrator in half a dozen films and is mentioned in most of the major books about blues. In 1997, his own book, The World Don't Owe Me Nothing: The Life and Times of Delta Bluesman Honeyboy Edwards, was published. This account is a deeply personal story of his early life as a sharecropper's son and his years as an itinerant musician. It also offers a "vivid oral snapshot of an America that planted the blues. The World Don't Owe Me Nothing was declared a "Best Blues Book" by Living Blues Magazine and was honored with the Handy Award for Literature.
Honeyboy Edwards was inducted into the Blues Hall of Fame in 1996. While many of his earlier recordings have been rereleased, Honeyboy has also recently recorded several cds on various record labels. Just turning 90, he continues to travel and perform. His guitar and vocal performances are moving and intense. Listening to his live performances, one readily understands how Honeyboy Edwards has been captivating audiences around the world for decades.
For more information, visit www.davidhoneyboyedwards.com